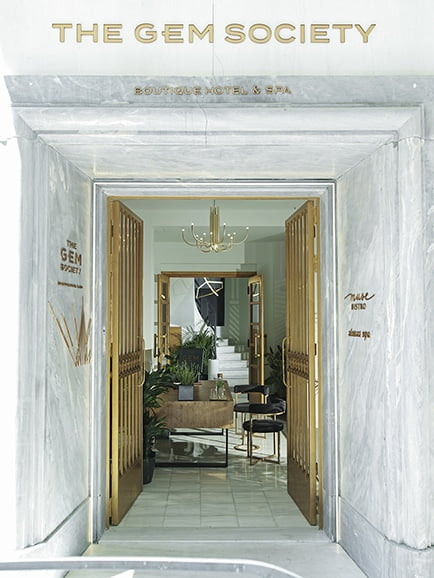 The Hip 4* Boutique Hotel for Tasteful Travelers. Experience Real Upscale Hospitality in the Heart of Athens' Historic Triangle.
Set against a backdrop of ancient and contemporary, it is the ideal base for culture enthusiasts and history buffs as well as picky business travelers.
Built in 1932, the original building performed as a bank's headquarters for more than half a century. Now fully renovated, with style and comfort as guiding principles, consideration to history can be seen in features throughout the hotel, where original details such as vault doors remain.
"I don't know where to start, our stay was amazing!! By far the best aspect of this hotel was the staff. We were blown away with the kindness and helpfulness at every turn. We had a toddler with us and they truly did everything in their power to make us feel comfortable. The rooms are gorgeous and the dining downstairs was so good. Not only did they make us an amazing breakfast each morning, they made sure the toddler was taken care of too. I can't say enough good things about our stay at The Gem Society, but I will say if we are ever back in Athens this would be the only place we would ever stay!"
A true gem! Very very friendly, welcoming and helpful staff, fantastic food, great location, modern and clean design with a homey feel! The rooms with the private balconies are wonderful! I'll definitely book again! Thanks guys!!
Dip a perfectly-seasoned fry into the ketchup at Muse Bistro and you know you're onto a winner. It's spiked with cardamom and cloves – and along with almost everything at this newly-minted hotel eaterie, set inside a revamped 1930s bank building, it's made in-house. There's fragrant peinirli with 24-hour matured dough; snack attack goodies like popcorn with bacon or graviera; home-roasted nuts with paprika and thyme that pair perfectly with their sassy cocktails (carrot Margarita, anyone?).
AT THE HEART OF THE GEM SOCIETY BOUTIQUE HOTEL & SPA IS A PASSIONATE TEAM, DEDICATED TO DETAIL AND HOSPITALITY.
Our staff is attentive and always discreet. You will be spoiled by our in-house Almaz Spa, Boutique and Muse Bistro, as well as our unmatched level of service, committed to ensuring you love The Gem Society as much as we do.
An individual, aesthetic, comfortable and service-driven hotel experience that reflects the vision of an independent hotelier – with a passion for cultural authenticity and genuine hospitality.
Check in and share the experience. The Gem Society team wishes you a warm welcome.
Booking.com Travelers Review Awards 2023
Kayak Travel Award 2022
Top Rated by Boutiquehotel.me