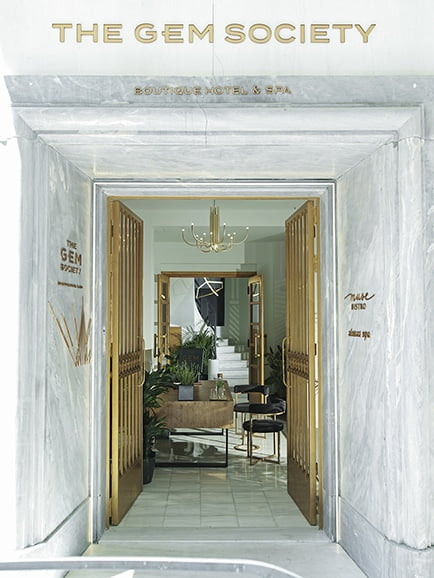 Located in the middle of Athens' Historic Triangle, The Gem Society Boutique Hotel & Spa is a brand new hospitality experience.
Set against a backdrop of ancient and contemporary, it is the ideal base for culture enthusiasts and history buffs as well as picky business travelers.
Built in 1932, the original building performed as a bank's headquarters for more than half a century. Now fully renovated, with style and comfort as guiding principles, consideration to history can be seen in features throughout the hotel, where original details such as vault doors remain.
A true gem! Very very friendly, welcoming and helpful staff, fantastic food, great location, modern and clean design with a homey feel! The rooms with the private balconies are wonderful! I'll definitely book again! Thanks guys!!
Dip a perfectly-seasoned fry into the ketchup at Muse Bistro and you know you're onto a winner. It's spiked with cardamom and cloves – and along with almost everything at this newly-minted hotel eaterie, set inside a revamped 1930s bank building, it's made in-house. There's fragrant peinirli with 24-hour matured dough; snack attack goodies like popcorn with bacon or graviera; home-roasted nuts with paprika and thyme that pair perfectly with their sassy cocktails (carrot Margarita, anyone?).
Chef Themis Mantziris' menu plays on that same effortless sophistication and delivers Mediterranean staples with French finesse. The fatoush salad zings with herby, lemony loveliness. Try the ouzo-drenched orzo with shrimps or the moussaka ravioli, a lighter, refined expression of the Greek standard. Right down to the desserts, the seductively named kuneifi, promises crunch and gooey goodness with every biteful.
At the heart of The Gem Society Boutique hotel & Spa is a passionate team, dedicated to detail and hospitality.
Our staff is attentive and always discreet. You will be spoiled by our in-house Almaz Spa, Boutique, Gym, Business Meeting Room, and Muse Bistro, as well as our unmatched level of service, committed to ensuring you love The Gem Society as much as we do.
An individual, aesthetic, comfortable and service-driven hotel experience that reflects the vision of an independent hotelier – with a passion for cultural authenticity and genuine hospitality.
Check in and share the experience.
The Gem Society team wishes you a warm welcome.