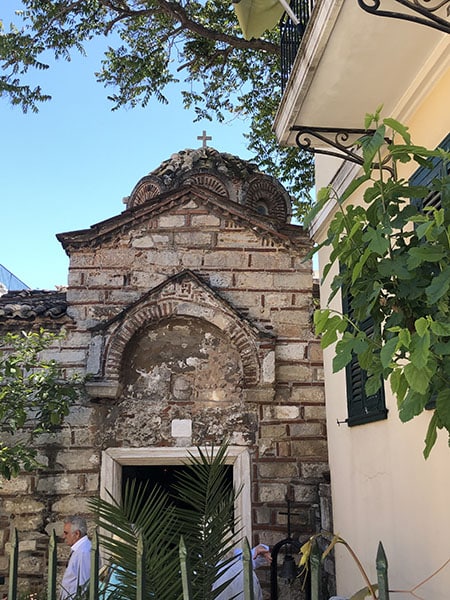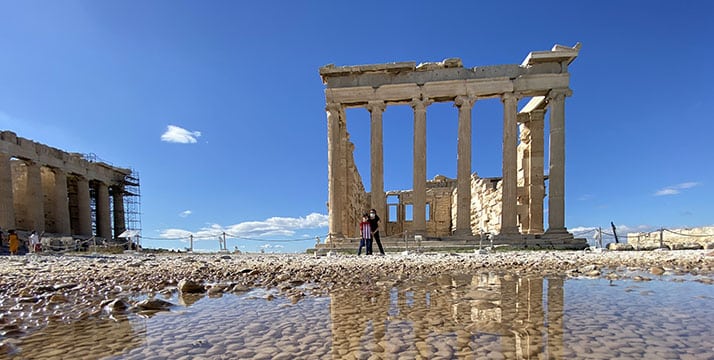 48 hours in Athens
Famous for her history and cultural heritage, the birthplace of western civilization and instrumental in the development of art, literature, science, math, and theatre, Athens can certainly lay claim to being a very worthy winner of Best Cultural Destination at the recent World Travel Awards 2022.
With that in mind we decided to put together a series of 48 hours in Athens itineraries, using our very own Gem Society 'traveler tribes' as inspiration.  Quite rightly so, we decided to begin our series' with First Timers.
"Earth proudly wears the Parthenon as the best gem upon her zone."
– Ralph Waldo Emerson
48 hours in Athens
DAY 1
7am – 11 am.  Naturally, there can't be any other first stop than The Acropolis for any new visitor to Athens.  So once you have kick-started your day with one of our superb breakfasts, you will be ready to tackle the hike up the hill.  We really suggest that you do this as early as possible in the day during the summer months, though general rule is earlier the better.
While admiring the Parthenon, your eyes will wander to another of the city's iconic structures, Odeon of Herodes Atticus.  Located on the southwest slope, this restored, ancient stone theatre is striking and one of the world's oldest functioning theatres!
11am – 2pm.  Once on flatter ground and positioned opposite, the Acropolis Museum will make your Parthenon tour even more meaningful. It is an incredible museum and not to be missed.
2pm – 4pm.  Next stop can only mean lunch, especially if your Acropolis hike has piqued your appetite.  We recommend you head over to To Kati Allo for some authentic home cooked food.  Run by two generations, there is no menu, only a display of what is fresh out of the oven.
4pm – 6pm.  Once satiated, it's time to start exploring the enchanting quaint hamlets surrounding Acropolis.  Anafiotika is one of Athens most charming neighbourhoods whose look and feel will have you wondering if you have been transported to a Cycladic island.  It's a small jewel and from the top you will be rewarded with stunning views.  Next, meander through Plaka and marvel at the neoclassical buildings and boundless bougainvillea while indulging in little bit of shopping magic.  An unlimited souvenir paradise, you will find some fine local Greek products, handcrafted arts and crafts, gorgeous jewellery and surprising innovative design.
6pm.  In true Athenian spirit, it's probably time for a coffee – or other refreshments.  Coffee culture in Greece is a big deal, and we mean BIG.  In fact, going out for coffee is a daily occurrence for most, and hours can be spent chatting and people watching over the nation's most consumed beverage.  We recommend the delightful Yiasemi cafe.  You can sit indoor or out or opt for the quieter roof garden and enjoy the picturesque views while sipping a cup of traditional Greek coffee.
8pm and beyond.  Greeks eat later than much of Europe, especially during summertime.  So if you prefer an earlier dinner your chances of a good table is significantly increased.  For your first night in Athens, Kuzina is a gastronomic experience with a fantastic view .
11pm.  The night is always stretched ahead in this city that really barely sleeps!  So late night drinks are a must.  Inside our neighbourhood and a stone's throw away from your room is The Clumsies.  Routinely featured in the top 10 of Top 50 bars of The World, try their Aegean Negroni you will understand why!
Day 2
7am – 10am.  Start your day again with a hearty Muse Bistro breakfast.  Should you wish to breakfast or brunch outside then we recommend The Underdog if you fancy a chilled courtyard and some specialty in-house roasted coffee.  For a fancier affair head to Queen Bee in upscale Kolonaki for some fine French pastries and brunch classics such as eggs Benedict.
10 am – 12pm.  Burn off some calories in The National Gardens and take in the vast Mediterranean flora and soothing elements of nature.  Then head over to Syntagma square and watch the famous change of the presidential guard.  The Change of Guard takes place every hour but every Sunday morning at 11 am, you can watch the official ceremony of changing of the guards with the official dresses.
12 pm – 1pm.  Loop back around and walk towards Monasteraki square and market.  Here you can browse an eclectic feast of everything and anything – from antiques to vintage army surplus to the latest sneaker!
2pm – 4pm.  Stop right where you are for some quintessential old Athens dining that Cafe Avissinia (in Monasteraki square) beautifully delivers.  The views from their terrace are a treat as is the ground level for people watching and live music.
4pm – 6pm.  For some post-lunch coffee TAF is welcome respite from the hustle and bustle of Monasteraki.  Hidden away from the vibrant square, it's a unique spot with a really cool vibe and great music.
8 – 10pm.  Suggesting a place for dinner to round off your first 48 hours in Athens isn't easy given the wealth of choice.  Our very own Muse Bistro always hits the spot with our own brand of 'Bistronomy', and is very conveniently located for our end-of-day weary guests!  We also recommend Barbounaki for some fish and seafood delight in Kolonaki, or Drakoulis for the meat lovers out there.
Finally, for an after dinner drink, Baba au Rum is one of the city's best cocktail bars and the perfect place for an until-next-time-Athens cocktail!